'Build Trust and Completeness into your Data' through our Enterprise Information Management Services.
Are you a winner among your peers?
Do you know how to build a high performance culture in your organization?
Information must be managed as a currency - save it, invest it, spend it, manage it and account for it.
Our experience has shown that to be a winner and embrace a high performance culture, it is essential to lay down a strong foundation in Enterprise Information Management. In most organizations, the practice of managing information is undisciplined and unfocused. This is evident with the complex integration scenarios, data silos, unmanaged glut of data & information, and inflexible system designs. All information must be organized,structured, and secured to maximize its value, usefulness, accessibility and security. Enterprise Information Management will help you achieve this and we can help you get there.
Your Enterprise Information Management Strategy dictates your Business Intelligence and Performance Management success. Business Intelligence (BI), since its inception, has promised to empower users by giving them direct access to information so they can make informed decisions, create more effective plans and react quickly to changing market dynamics. But the reality is that most organizations have not been able to completely achieve this goal. Per a TDWI survey, more than 50% of organizations are still "trying" to transform BI from a departmental solution to an enterprise initiative.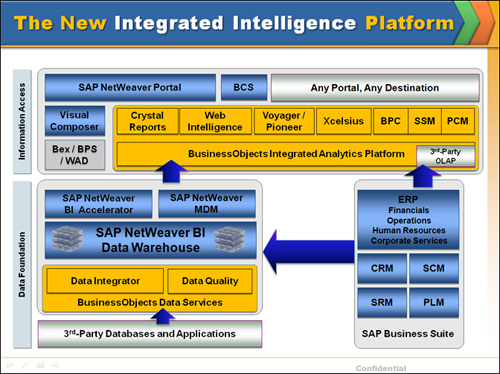 SAP BusinessObjects Data Services delivers integrated and trusted information across the enterprise with a single product for powerful data integration and data quality capabilities
Data Quality (DQ) can help verify that your company's data is correct, consistent, and complete by monitoring, analyzing, and reporting on information across your organization.
Data Integrator (DI) allows organizations to easily explore, extract, transform, and deliver data anywhere at any frequency. As a result, you can ensure the integrity of your data,maximize developer productivity, and accelerate data integration performance for all of your operational and analytics initiatives.
Metadata Management overcomes the difficulties of managing metadata from various data sources, technologies, and systems. SAP BusinessObjects Metadata Management involves consolidating and integrating metadata into an open, relational repository. Our solution brings it all together to reduce workload, lower project costs, and provide users with trusted data and analysis.
'Leverage Morph IT to establish Enterprise BI Strategy framework to maximize the impact of BI from improving information access to improving business performance to making it as an competitive advantage'.